Shop Your Way To A Dream Get Away with Pal Mabuhay Miles Promo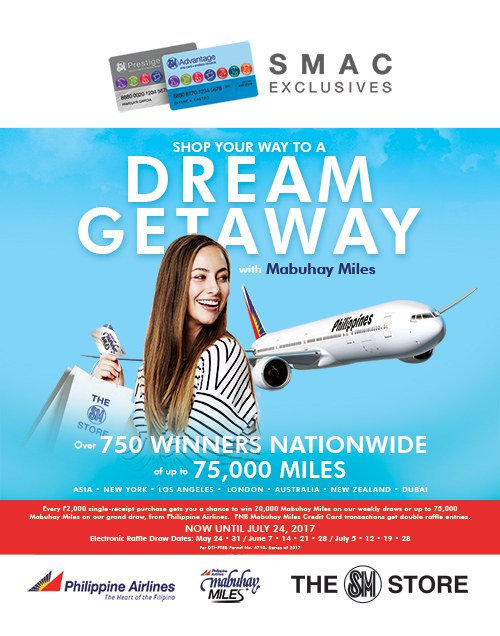 Mechanics
1. For every P2,000 single receipt purchase (of any tender) at The SM Store, SM Advantage and SM Prestige members are entitled to one (1) electronic raffle entry and get a chance to win PAL Mabuhay Miles in weekly, monthly and grand draw. If a loyalty card member uses a PNB Mabuhay Miles Credit Card, he/she gets double entry.

a. Promo is extended to BDO Rewards, PRiMO, Mom card, SM Stationery and Love Your Body card members.
b. Promo is open only to members with permanent card. Members' with temporary card should submit their Membership Application Form (MAF) prior to the draw date. Shoppers with expired card (on the date of transaction) will not be eligible for the promo. Membership Application Form may be submitted at the Customer Service Counter of any The SM Store and SM Supermarket branches.
c. Purchase of cellcards, phone cards, SM gift cheques or concert tickets at the Customer Service Counter are not entitled to raffle entry.
2. Promotion period is from May 15 to July 24, 2017.
3. Electronic Raffle Draw will be held at the MCI Office, 4th Floor One E-com Center, Harbor Drive, Mall of Asia Complex Pasay City, in the presence of DTI and SM representative.
4. Prizes at stake are:

a. Weekly Draw Winner (1 winner per SM Store branch) of 20,000 Mabuhay Miles
b. Monthly Draw Winner (1 winner per SM Store branch) of 45,000 Mabuhay Miles
c. Grand Draw Winner (1 winner per SM Store branch) of 75,000 Mabuhay Miles
5. There will be a total of 754 winners.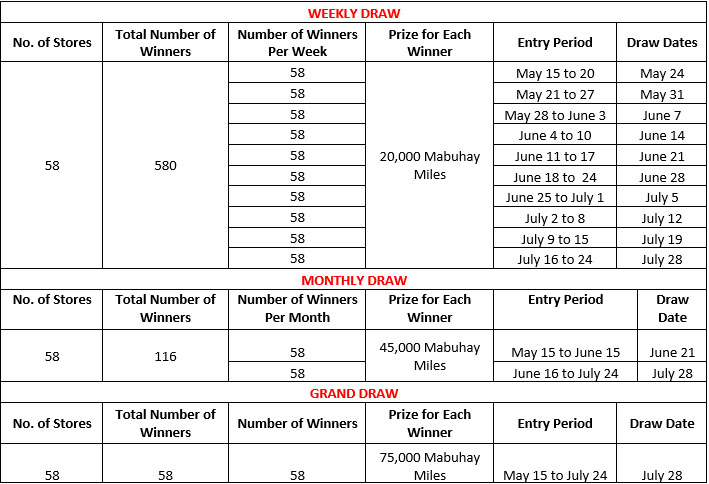 6. All Mabuhay Miles prizes will be credited to the winners Mabuhay Miles Card. If winner is not a Mabuhay Miles cardholder, he/she will have to fill-up the form and submit to PAL for processing at no cost to the winner.
7. Member/Cardholder may only win once.
8. The SM Store, PAL and PAL Mabuhay Miles reserves the right to verify the eligibility of the drawn entries (that is, the winner's transaction must be valid for the duration of the Raffle Draw and the 60-day redemption period).
9. Prize is not convertible to cash and exempted from prize tax. (Mabuhay Miles Sponsored by Philippine Airlines)
10. Winners will be notified by phone and registered mail on details how to claim the prize.
11. Winners will be given sixty (60) days upon receipt of notification to claim their prize certificate. After the 60-days claiming period, prizes will be forfeited in favor of The SM Store with the prior approval of DTI.
a. Winners must present two (2) valid I.D.'s, (valid ID's are Driver's License, SSS card, Passport, Birth Certificate, TIN Card and any government ID at The SM Store branch where they won for crediting of Mabuhay Miles.
b. Winner should present the SM Advantage/SM Prestige/Mom Card/SM Stationery/Love Your Body Card used for the winning transaction upon claiming the prize.
c. If a representative is claiming the prize in behalf of the winner, he/she must present an authorization letter from the winner, photocopy of winner's Mabuhay Miles Card and valid identification (Passport, Driver's License or SSS I.D. of both the winner and his/her representative). The winner's representative must also present original copies of the same required valid forms of identification and a copy of the winner's TIN.
2. The SM Store, PAL and PAL Mabuhay Miles reserves the right to disclose and publish names, photos and other information of the winners in any mode or manner as they deem appropriate.
3. Employees of SM Mart, Inc. PAL, Marketing Convergence Inc. and its accredited advertising agencies and suppliers, and their family relatives up to 2nd degree of consanguinity or affinity are disqualified from participating in the promotion.